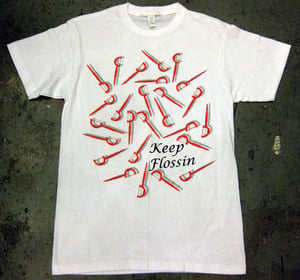 $

25.00
Hand Printed on 100% cotton Unisex T-Shirts. Available in size Small, Medium, Large and X-Large.
Like most of my stuff this design comes from a real life experience, After a what my Dentist called an "Extreme" Root Canal i was on pain pills n texted my friend some gibberish that must have been obvious that i was in pain n on pills, He responded with the simple phrase "Keep Flossin" Right then this image appeared in my head and a few weeks I made it happen, aka, true life, true pain, true art,, MJL
If you do not see your size or this product is SOLD OUT please send me an email @ mattlandondesigns(dot)com. I could have extra inventory of this design or be planning on printing another batch soon, aka I work at a screen-printing studio.