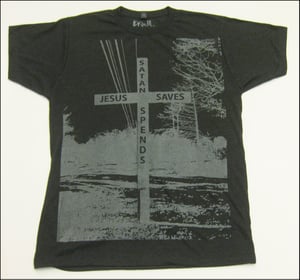 $

35.00
Hand Printed on 100% cotton Unisex T-Shirts. Available in size Small, Medium, Large and X-Large.
"Like most of my stuff this design comes from a real life experience,. While leaving NYC and visiting my brother I was mesmerized by all the abundance of Fireworks, Churches and Strip Cubs everywhere down south. I took this picture and had originally thought of replace the words with "Sparky Said Get It" but a good friend said "No put this instead, kinda wise ass but funny" aka the birth of the Jesus Saves shirt.
If you do not see your size or this product is SOLD OUT please send me an email at mattlandondesigns@gmail(dot)com I could have extra inventory of this design or be planning on printing another batch soon, aka I work at a screen-printing studio.